CAHS Update
Research Updates
Surkar to Participate in TIGRR | Snodgrass Awarded Pre-Doctoral Fellowship | Artificial Intelligence Resources | Build UP Trust Challenge Prize Competition
Continue Reading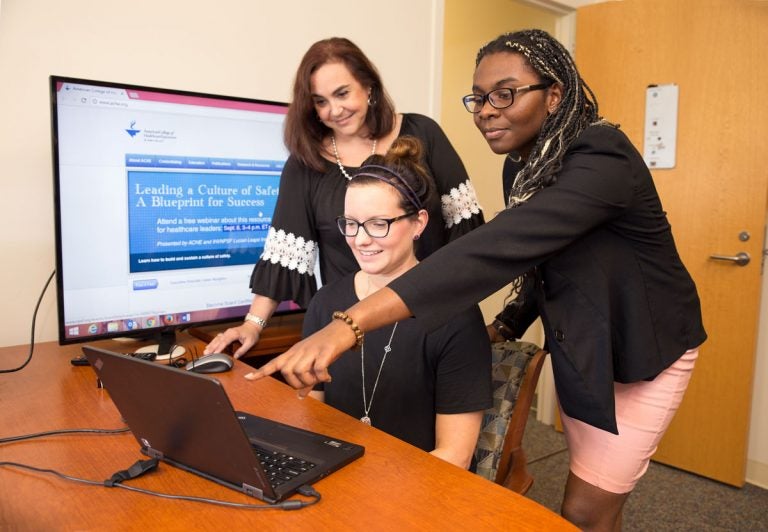 Instructional Technology Updates
Media Consent Guidelines | Making Hidden Videos Visible to Students | Duplicate or Extend Screens in Presenter Mode | Using Canvas Tools to Take Attendance
Continue Reading
2023 Dean's Awards
Outstanding Teaching
Outstanding Service
Outstanding Research
Outstanding Staff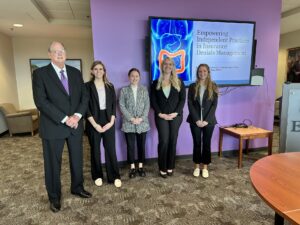 Health Services Management (HSM) students – Baily Barefoot, Sarah Barrington-Walls, Madeline Grimes, and Kasey Perkins – won second place in the Undergraduate Case Competition at Medical University of South Carolina (MUSC).
Hosted by the Association of University Programs in Health Administration (AUPHA), students competed against teams from well-known HSM programs at Auburn, George Mason, and Penn State universities with a presentation about obtaining medical insurance approvals for gastroenterological disease.
Dr. Robert Kulesher, Professor in Health Services and Information Management, served as the team's advisor and coach.
---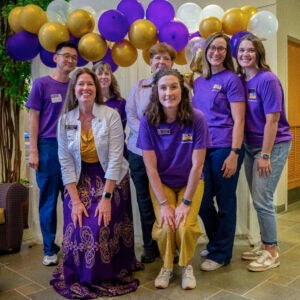 The Department of Occupational Therapy celebrated 50 years of graduates with an afternoon open house bringing students, alumni, fieldwork educators, and donors together.
Activities included a memory gallery of photographs, tours of facilities, research poster presentations, and program updates.
The Student Occupational Therapy Association (SOTA) and Pi Theta Epsilon (PTE) Honor Society hosted lunch and mocktail fundraisers, respectively, raising more than $590 to support their efforts.
---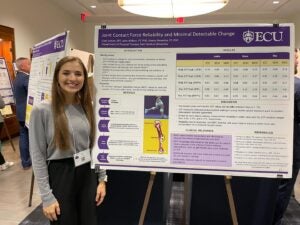 Natalie McBryde and Cayli Sutton, Physical Therapy graduate students, received awards for their research posters at the American Physical Therapy Association (APTA) North Carolina Annual Conference hosted by Elon University.
ECU PT's Fall Prevention Educational Video Submission was awarded 1st place.
Riley Pilcher presented the exercise and education program led by Dr. Amy Wedge, Clinical Assistant Professor, for those with Parkinson's to the association.
---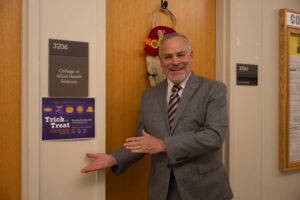 The College of Allied Health Sciences hosted its inaugural Fall Social for alumni, donors, fieldwork educators, faculty, staff, and students as well as their families.
Activities included a picnic lunch, trick-or-treat and department social hour, and a stamp rally.
Photos from the Event



Images by Ty Huff
---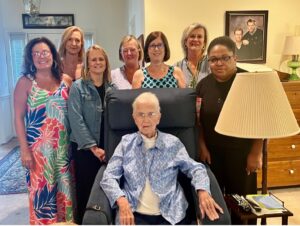 Health Information Management (HIM) graduates from the classes of 1980-1994 visited Dr. Peggy Wood, retired faculty member and founding HIM program director, at her home.
They looked at class pictures together while celebrating Dr. and Mr. Wood's 67th wedding anniversary.
"Mrs. Wood has influenced so many lives. We love her so very much and are so thankful for her. Go Pirates!!" –Dr. Susie Harris, 1989 HIM graduate and current program director
More Student Success Stories
Faculty in the College of Allied Health Sciences received more than $3 million in research awards, a new record reached during the 2023 fiscal year.
Dr. Heather Harris Wright, Professor and Associate Dean for Research, reported that students co-authored 39% of 67 publications and 71% of 190 presentations.
Nearly $9,000 was awarded to 27 students traveling to six conferences this last year.
The college also supported students through five dissertation or thesis awards totaling more than $15,000.
Members of the Physician Assistant Studies Class of 2023 completed their PACKRAT II examination, exceeding the national average score by more than one standard deviation.
This assessment is used to predict future performance on the Physician Assistant National Certifying Examination (PANCE) which the Class of 2023 will take following their December graduation.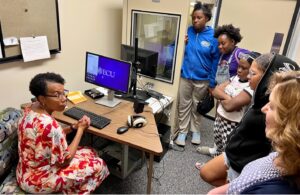 Undergraduate program directors welcomed a group of middle and high school students from Building Hope Community Center to campus.
The young visitors learned about majors in Clinical Laboratory Science, Health Information Management, Health Services Management, Nutrition Science, and Speech and Hearing Sciences through hands-on activities and a tour.
---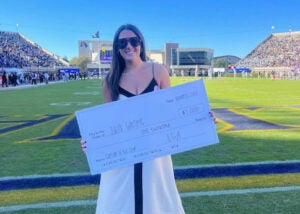 Julia Gillespie, senior in Speech and Hearing Sciences, received ECU Homecoming's Captain of the Ship Award for service in and outside of the Greenville community.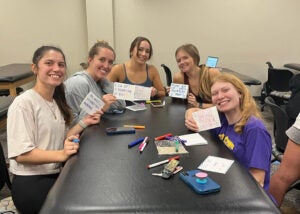 Physical Therapy students celebrated National Physical Therapy Day of Service by packing bagged lunches for Community Crossroads Center and writing cards to patients at ECU Health Medical Center.
Department faculty donated the materials to support these service activities.
---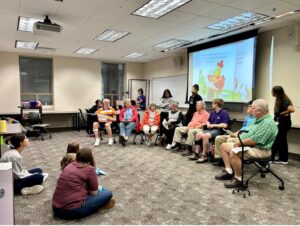 The Speech-Language and Hearing Clinic Aphasia Group hosted a story time where members took turns reading to a small group of children.
Aphasia is a speech disorder often caused by brain injury or other life events.
Directed by Sherri Winslow, Clinical Assistant Professor in Communication Sciences and Disorders, ECU's Aphasia Group provides a supportive and therapeutic space for individuals with aphasia to meet.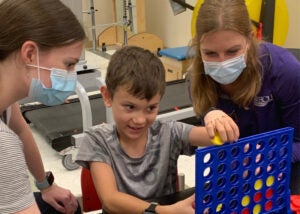 Dr. Swati Surkar, Assistant Professor in Physical Therapy, and her volunteers welcomed nine children to the Hand Arm Bimanual Intensive Therapy (HABIT) program – a NIH-funded clinical trial.
Traveling from across North Carolina, South Carolina, and Virginia, the young participants completed a five-day camp under the supervision of occupational and physical therapists.
Drs. Christine Lysaght, Clinical Assistant Professor in Physical Therapy, and Caroline Adams, Assistant Professor in Occupational Therapy, served alongside Dr. Surkar as lead therapists.
Graduate research assistants in Dr. Surkar's lab, including Shailesh Gardas, Katie Woosley, Caroline Brown, Natalie McBryde, Brody Morton, Joseph Morphonois, Jade Butcher, Holly Donelly, and Natalie Grimes, in addition to 18 PT and 28 undergraduate student volunteers helped organize the HABIT program.
---
A video commissioned by Dr. Anne E. Dickerson, Professor in Occupational Therapy, won Bronze in Government Video and Education Video categories at the Summit International Awards.
Funded through a grant from the North Carolina Governor's Highway Safety Program, 'Making the Call, EMS Identifying Medically-at-Risk-Drivers' was directed by Erick Yates Green, Associate Professor in Film and Video Production.
Dr. Dickerson is the Director of Research for the Older Adult Driving Initiative (ROADI) lab.
---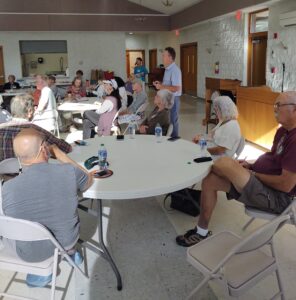 Dr. Roman Pawlak
, Professor in Nutrition Science, shared the second part of a lecture about nutritional considerations with 30 members of the Parkinson's Disease Support Group in New Bern.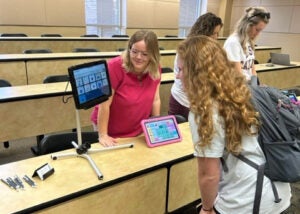 The Department of Communication Sciences and Disorders hosted Augmentative and Alternative Communication (AAC) Vendor Day to introduce students to available technology and devices.
Under the direction of Emily Brewer, Teaching Assistant Professor, and with the partnership of four local companies, participants learned how to be inclusive through other methods of communication.
PA students working through a slit lamp simulation
Students from across the college participating in the introduction to interprofessional education activity at New Student Orientation 1/2
Students from across the college participating in the introduction to interprofessional education activity at New Student Orientation 2/2
PA students learning airway management skills 1/3
PA students learning airway management skills 2/3
PA students learning airway management skills 3/3
OT and PT continue to see patients together through their Student-Run Clinic – Image by Ben Abel 1/3
OT and PT continue to see patients together through their Student-Run Clinic – Image by Ben Abel 2/3
OT and PT continue to see patients together through their Student-Run Clinic – Image by Ben Abel 3/3
OT, PT & PA students and faculty collaborated in the annual Fall Risk Assessment with help from standardized patients – Image by Ben Abel 1/3
OT, PT & PA students and faculty collaborated in the annual Fall Risk Assessment with help from standardized patients – Image by Ben Abel 2/3
OT, PT & PA students and faculty collaborated in the annual Fall Risk Assessment with help from standardized patients – Image by Ben Abel 3/3