From the Dean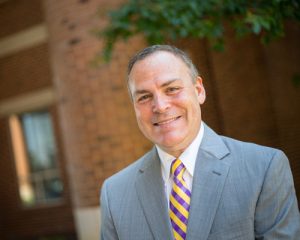 As Dean of the College of Allied Health Sciences at East Carolina University, I extend a most sincere welcome.
Accounting for nearly two-thirds of the entire health workforce, allied health professionals practice individually and in interdisciplinary teams to provide an extraordinary range of diagnostic, technical, therapeutic and direct patient care. They also provide support services that allow the healthcare system to function efficiently and effectively. Allied with one another, as well as with medicine, nursing, and dentistry, the professions represented within the College of Allied Health Sciences work to improve the quality of life for patients, their families, and their communities.
Celebrating a distinguished history extending back more than a half century, ECU's College of Allied Health Sciences remains the largest and most professionally diverse university provider of allied health professionals for the state of North Carolina.
Our graduates assume rewarding careers as dietitians, audiologists, physician assistants, medical technologists, speech-language pathologists, physical and occupational therapists, clinical and rehabilitation counselors, and health information managers, among others. With such diversity, our role is integral in transforming health care, not just nationally or internationally, but right here in the coastal plains of North Carolina.
With more than 25 degree and certificate programs, we at the College of Allied Health Sciences share a simple, but important goal: to make a meaningful difference in the lives of others.
Through these programs, we help people of all ages communicate, eat a nutritious diet, cope with the stresses of life, address the impact of alcohol or drug use, adapt to the physical demands of everyday activities, and remain physically active and fit. Whether our services be preventive or rehabilitative, our focus is always on wellness and ensuring that our patients get the most out of life.
Some of our students seek a career in frontline primary care as a physician assistant. They develop the knowledge and skill to practice medicine as a part of a healthcare team in collaboration with physicians and other providers. Other students look to play a crucial role in health care, pursuing degrees such as those in clinical laboratory sciences, health services management, and health informatics. Regardless of personal preferences, for students considering a transformative career in the allied health professions, there has never been a better time than now and the College of Allied Health Sciences is here to assist.
According to the U.S. Bureau of Labor Statistics, healthcare practitioners and allied support personnel are expected to add more positions between 2019 and 2029 than all major occupation groups. There is increasing emphasis on prevention and early detection, rapid technological advances in diagnosis and treatment, growing concern over occupational and environmental risk, an expanding population of older adults, greater demands on the management of health information, and new initiatives to improve access to health care and rehabilitative services. Our unfortunate recent experience with the global coronavirus pandemic has highlighted the fundamental importance of health and wellness through prevention, early treatment, and effective rehabilitation. Thus, the need for effective and accessible health care has never been greater and opportunities for health care providers have never been better.
The College of Allied Health Sciences is dedicated to outreach. We serve the local community by providing patient care in the Department of Addictions and Rehabilitation Studies' Navigate Counseling Clinic, the Department of Communication Sciences and Disorders' Speech-Language and Hearing Clinic, and two clinics run by the Department of Physical Therapy in collaboration with ECU's Brody School of Medicine and Neurosurgery & Spine Center and our own Occupational Therapy program. The Department of Occupational Therapy also maintains the Research for the Older Adult Driving Initiative, or ROADI, which serves as an evaluation, rehabilitation, and research center for older adult drivers. They have recently expanded their service to driving-age adolescents with autism spectrum disorder.
Through these clinics, research initiatives, and professional programs, our college actively supports ECU's mission to prepare students to work successfully and interprofessionally in a multicultural society. By means of our research, education, and practice we seek to serve and inspire positive change, transform health care, promote wellness, and reduce health disparities, and thus support a thriving future for eastern North Carolina and beyond.
I am proud to support our mission and to represent the talented and diverse students, faculty, and staff who make CAHS so vital and important. I urge you to take a few moments to explore our many programs and services to see what our college can do for you.
Sincerely,

Robert F. Orlikoff, Ph.D.
Professor and Dean, College of Allied Health Sciences
East Carolina University